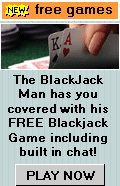 QUICK LINKS
Home
Play Our Game
Rules | Strategies
Terms & Definitions
Bigger Winnings
Online Poker

WEBMASTERS
Make Money
Newbies | Resources





Play our blackjack game!

Hi to all my free blackjack players out there! Before you go ahead and click to start playing, I'd like to say a few words about two incredibly dedicated players on my site who have passed away. Up 'til now, I've honored them by placing them at the top of the Top Players list in the free games window, but now I don't think that's very fair to anyone else who wants to have a crack at the top 10, so I'm going to give them a premanent place on this page as two of the most dedicated players, and also two very good friends. I'm sure that these two online friends are now together, playing all their favorite online games and having loads of fun together again!

Please take a moment to remember two great friends of anyone who has had the pleasure to meet them online while playing here.



Sillylady
lpjonly

We'll miss having you around!



Instructions: when you click the image above, our game console will pop up, and once you've registered, simply click the "Games" link in the console and you'll be ready to play blackjack. How do you play blackjack? Well, you should know that already; but here's a quick intro on how to play our free blackjack game - click on the chips to make a bet, then click the "deal" button to start. Use "hit" if you'd like another card, or "stand" when you're satisfied with your hand. You can "double down" to increase your bet. "Split" can be used when you have two cards of the same value. "Insure" is used when the dealer is showing an Ace. Have fun!!!

New! Now you can download our blackjack game and play it whenever you like! Click here to download the file. Feel free to pass it on to your friends! (Requires Windows. A 2.2 meg download.) If you have problems downloading the file, please click here for a ZIP file instead.

The Macromedia Shockwave plugin is required to play this game... if you don't have it, you can download it from the Macromedia site.



[ HOME ] [ ]